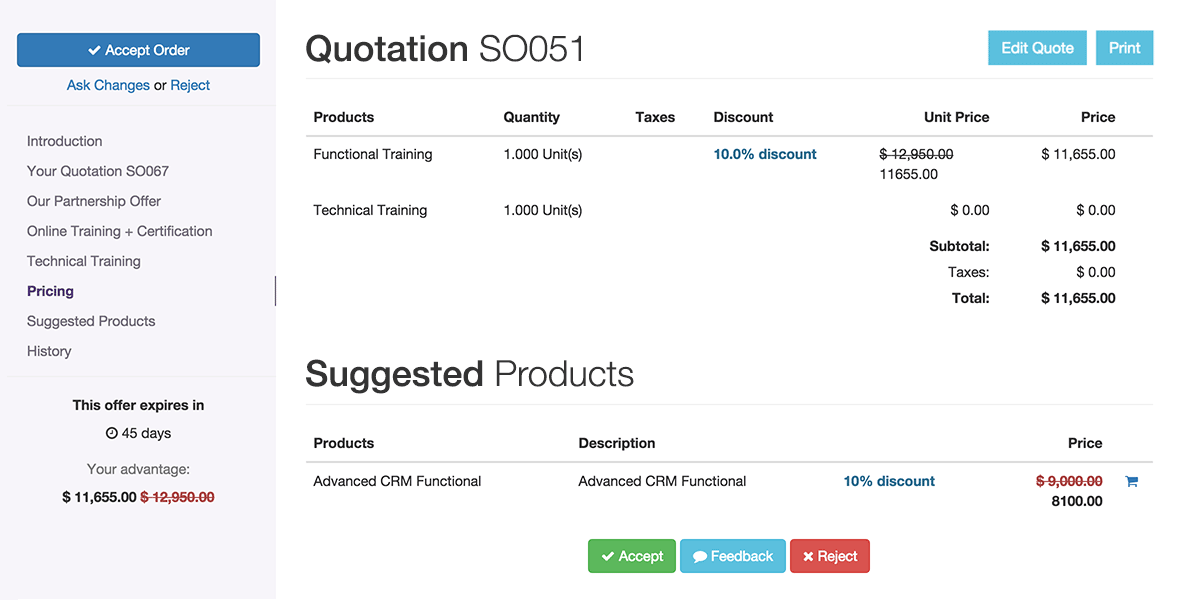 Sales Pipeline & Monitoring
Our clever quotation software
means you can easily send polished quotations with eSignature and online payment.
You can also upsell to boost your average revenue per order and also negotiate directly on the quotation.
Many clients like to add product descriptions, beautiful images, and additional information simply by dragging and dropping building blocks.
At any point you can see your sales pipeline and where your prospects are in their buying journey.
Once the quote has been signed and accepted Odoo can support with contract management.
Using Odoo, you invoice your customers based on time and materials, easily record contracts and track invoicing phases, maintain renewal and upselling opportunities, and manage your subscriptions with Odoo's recurring contracts.
CRM – customer data and workflow management
Track leads, close opportunities and get accurate forecasts with d esign custom dashboards to get a picture of your business at a glance. You can also d ig deeper with real-time reports and flow charts that anyone can create and share. Get the insights you need to make smarter decisions.


You can schedule activities based on your sales scripts: calls, meetings, mailing, and quotations. Get all the information you need, directly on the opportunity: website pages viewed, mail received, etc. Get more done in less time.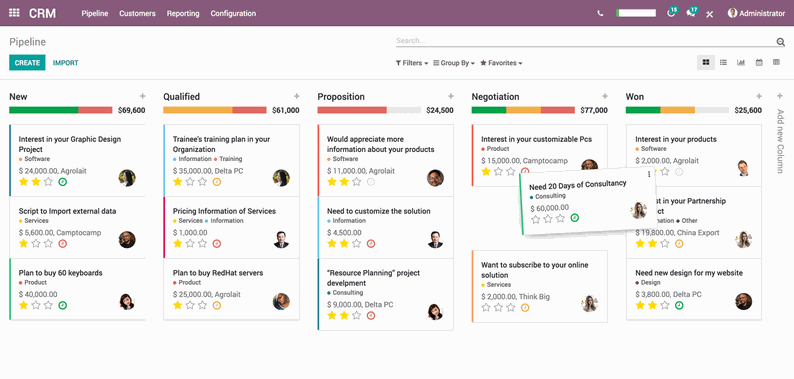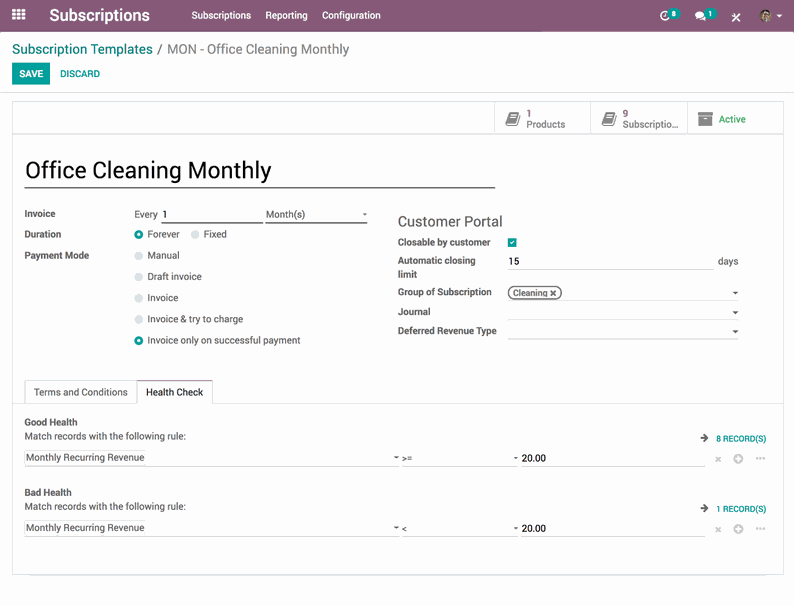 Subscription management
Does your company work often happen on recurring subscriptions? Like monthly cleaning , weekly cake delivery or bi-weekly consultancy for example.
Concentrate on services and relationships while Odoo's automated features handle your recurring sales and subscriptions. Quickly provide clear contracts and flawless, automated invoices; take care of taxes with no stress; and deal with payments - all done automatically according to your settings.
You can also give your customer access to a user-friendly portal with all their data and contract options at a glance . More focused sales people are more productive. Let them focus on acquiring new customers .
Other software connectors – great for Amazon sellers
Once you have your credentials set up with your other software ( Amazon , Xero and WooCommere to name but a few) using the Odoo c onnector module we connect in to your Odoo Database, so data can flow from one to the other. There is no duel entry of data and you can manage your sales, deliveries and stock.
Y ou can start focusing on your sales and let Odoo synchronize your orders for you. Time to focus on what you are good at !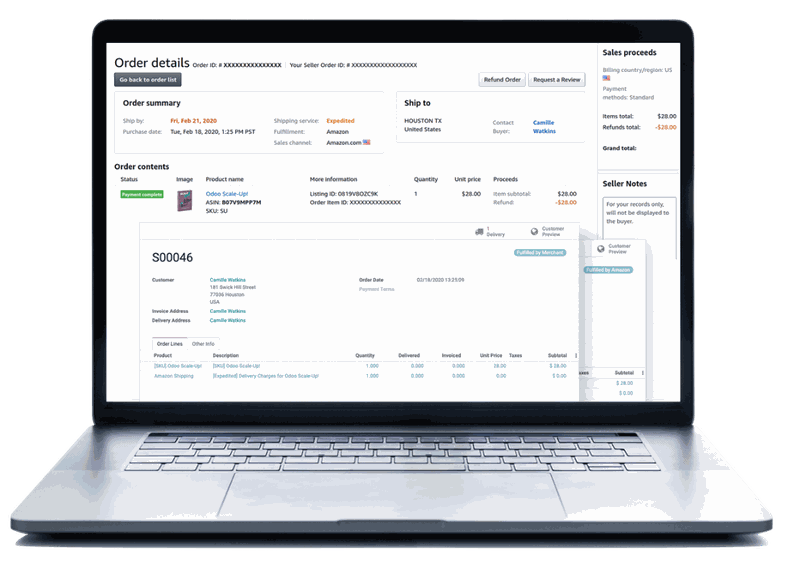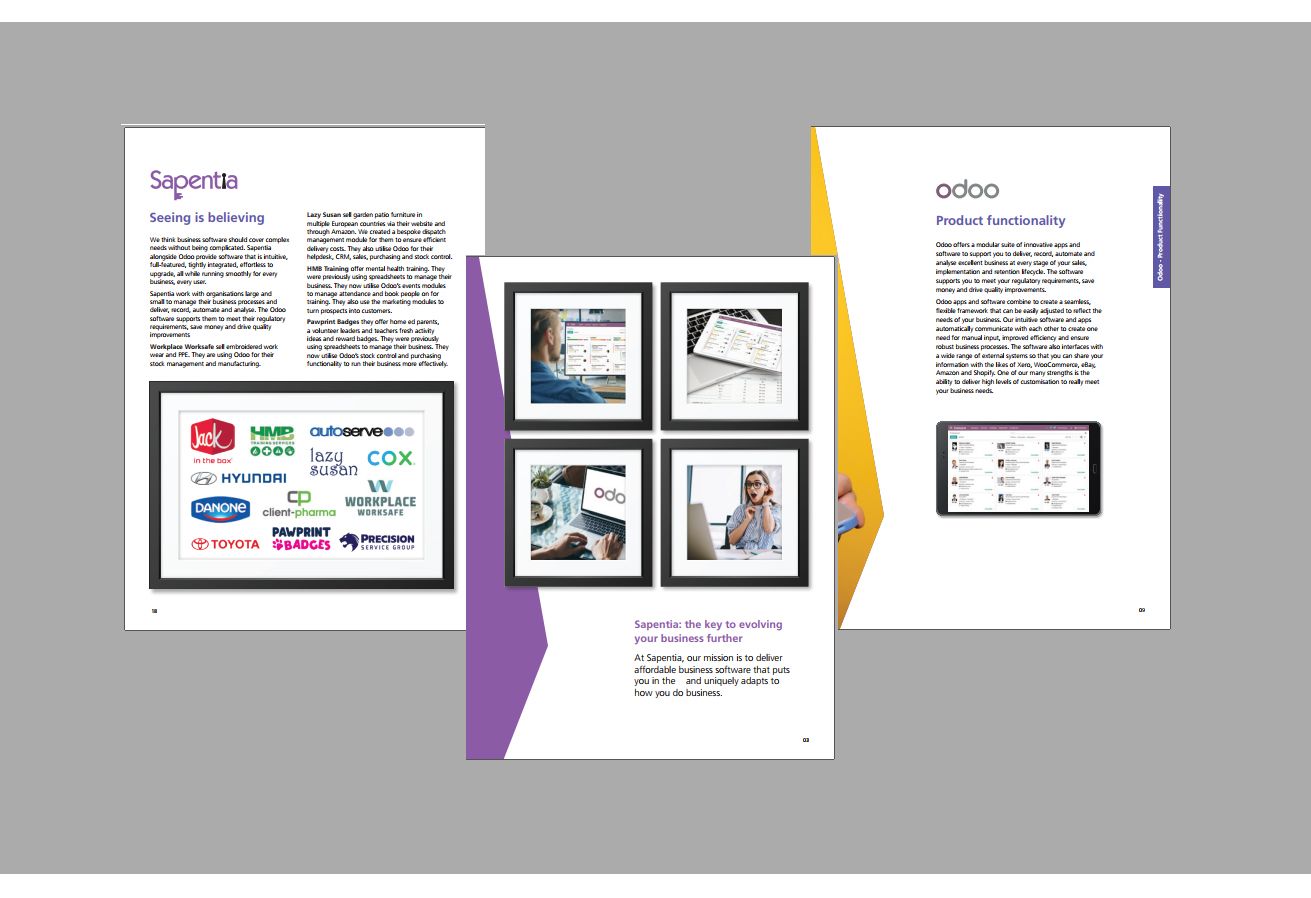 Sapentia: Putting you in the Picture
We have a brochure that is a visual treat as well as making all the techy stuff easy to understand. Either we can send you a PDF copy to your email, which you could view on screen/print off, or we could send you a hardcopy in the post.
Let us know and we can get this sent to you ASAP.